When you're ready to install a video surveillance security camera system in your business you can rest assured you're about to feel a whole lot safer because of our experience.
Designing a video surveillance solution involves on six basic questions. Learn more about how to select your basic camera options and features.
The six basic questions are:
What type of security cameras should I use?
How should I connect cameras to video servers?
What type of video server system should I use?
What type of recording storage should I use?
What type of video analytics should I use?
How should I view my surveillance video?
1. Security Camera Selection
Security cameras are literally the eyes of a video surveillance system and should be deployed in critical areas to capture relevant video. The two basic principles of camera deployment are Chokepoints and Assets.
Chokepoints are locations where people or vehicles pass to enter a certain area. Examples include doors, hallways and driveways. Placing cameras at chokepoints is a very cost-effective way to document eberyone who enter your facility.
Assets are the specific objects and/or areas that need security. Examples include physical objects such as safes and merchandise stock, as well as areas where important activity occurs, such as loading docks, shipping and parking.
There are four basic camera characteristics to decide on once you determine what areas to cover:
Fixed vs.. Pan/Tilt/Zoom (PTZ): A camera can be fixed to only look at one specific view, or it can pan (move left to right), tilt (up and down) and zoom in and out. Most surveillance cameras are fixed. PTZ cameras cover wider fields of view and are generally used if you expect to monitor the cameras daily.

Color vs. Black & White: Most cameras are color; black and white cameras are used at night, or when lighting is very low. Black & white cameras use infrared illuminators and are more expensive than color cameras.

Standard vs. Megapixel Definition: Cameras are shifting to high definition models, providing up to 16 Mega pixel resolutions, over 5X more than standard surveillance cameras. The new high-def cameras allow you to see much greater detail, especially subject identification.

IP vs. Analog: The trend in video surveillance is from analog cameras to IP cameras. While all surveillance video is digitized to view and record on video servers, IP cameras digitize the video inside the camera. Currently twenty percent of surveillance cameras sold are IP and increasingly rapidly.

Most businesses mix a number of different camera types. Outside you might use black & white, fixed lens, analog cameras monitoring the perimeter, and an analog PTZ covering the parking lot. Inside you might have a fixed lens, megapixel color camera covering your warehouse, and a number of fixed lens, IP cameras covering the entrance and hallways.
2. Connectivity
Surveillance, cameras are generally connected to video servers to record and to access each video camera. There are two main characteristics to decide on are:
IP vs. Analog: IP Video is transmitted over a regular computer network, while Analog is sent through a cable. Most surveillance video is sent using analog, but migration to IP is occurring rapidly. The decision is mainly influenced by the distance and location of each camera.

Wired vs. Wireless: Both IP and analog video can be sent over wires or over the air. Most video is sent using wires, generally the lowest cost and most reliable. Wireless offers an advantage since wires can be cost-prohibitive for certain locations such as parking lots, fence lines and remote buildings.

3. Video Server
A Video Server is the heart of your surveillance system, accepting video from cameras, storing the video and managing distribution of video to viewers.
There are four basic video server options. You might choose only one, however it's possible you may may need multiple types.
DVRs are speciality built computers that combine software, hardware and video storage. Most support remote viewing over the Internet. DVRs are relatively inexpensive, but can limit your flexibility in future expansion and hardware changes.

HDVRs are DVRs that support IP video cameras. They have all the functionality of a DVR, plus add support for IP and megapixel cameras. Most DVRs can be software upgraded to become HDVRs.


NVRs are similar to DVRs, except an NVR only supports IP cameras. To support analog cameras with an NVR, an special encoder must be used. In certain situations a NVR can offer cost savings.

IP Video Surveillance Software unlike DVRs or NVRs, does not include any hardware or storage. The user must load and set up the softwar on a PC Server computer. This provides much greater freedom, and potentially lower cost than using DVR/NVR appliances, however it is more complexity to set up and optimize.

4. Storage
Surveillance video is stored for later retrieval and review, with the average storage duration between 30 and 90 days. Video surveillance demands large amounts of hard drive storage and it is common to require multiple TBs of storage.
Three fundamental types of storage:
Internal Storage uses hard drives and typically provide total storage of up to 4TB. The most frequently used in video surveillance, it is the least costly option, but tends to be less scalable than the other options.

Directly Attached Storage are hard drives located outside the video server. Storage appliances such as NAS or SANs are used to manage hard drives. This provides greater scalability, flexibility and redundancy. However, the cost per TB is usually more than internal storage.

Storage Clusters are IP based 'pools' for storing video from large numbers of cameras. Multiple video servers stream video to these storage clusters, providing efficient, flexible and scalable storage.

5. Video Analytics
In its simplest form, video analytics is computer program which "examines" live video images to identify motion. Based on the presence or absence of motion, the video management system can decide to store, or not store any video.
Because surveillance video captures long periods of inactivity, like hallways and staircases, buildings when they are closed, etc., using motion analytics can significiently reduce storage consumption compared to continuously recording, even when nothing is happening.
Video analytics can also be used to automatically identify special events, including perimeter violation, abandoned objects, people counting and license plate recognition.
Video analytics can pro-actively identify security incidents and stop them in progress For example, a perimeter violation system can identify a person jumping your fence; license plate recognition identifies a suspected vehicle.
6. Viewing Your Video
Surveillance video is ultimately viewed by people. While most surveillance video is never viewed, the video that is viewed is often used is for criminal investigations. Video surveillance is also done periodically in response to a potential problem or to check up on the status of a remote facility.
Three basic options for viewing video are:
Local Viewing directly from the video server is ideal for monitoring small facilities on site. This lets the video server system double as a viewing station, saving you the cost of setting up or upgrading any computers.

Remote PC Viewing is the most common way to look at live and recorded surveillance video using standard PC computer. Either a special program or an Internet web browser is used. The advantage of using a web browser is that you don't need to install or upgrading a monitoring system.

Mobile Viewing allows you to immediately check surveillance video from any web cell phone. As business people are more mobile today, being able to check your video cameras from any location around the world offers many advantages.

Contact us to learn more about your video surveillance video camera options and how you can use them to stay in control of your business.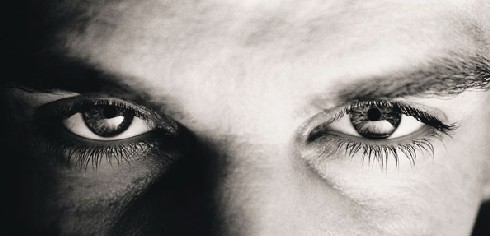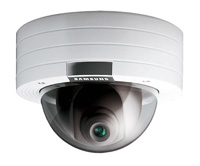 A vandal resistant color dome camera with a combination of superior imaging and anti-vandal housing assembly. Remote control and programming is accomplished via RS-485 communication which allows all cameras in the high impact series to be remotely controlled. It is water resistant, dustproof and shockproof, combining 12X optical zoom with a 10X digital zoom to yield 120X total zoom capability.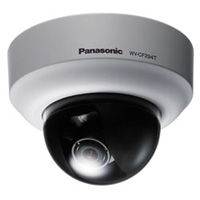 Compact mini-dome color camera with adaptive black stretch technology that transforms dark areas into crisp images like those seen by the human eye. This highly sensitive camera delivers high quality, clear images even in low light or changing light conditions with minimum illumination of 0.9 lux. It has a built-in Variable Focal Lens having focal length of 2.8-6 mm.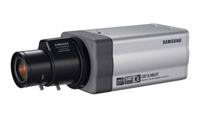 Color Day/Night Security Camera with 1/3 Inch IT Super HAD CCD image device and a high resolution of 540TV Lines for complete security surveillance round the clock. It can handle all type of standard lenses for maximum coverage.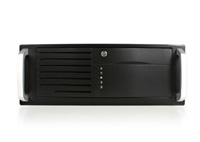 Dual Core Pentium
4 GIG Memory
2,000 GIG Disk Drive
32 Channels for up-to 32 cameras
MPG4 hardware compression with 8 processors
10/100/1000 Ethernet, High-Resolution video card, Rugged Rack Case with Lock.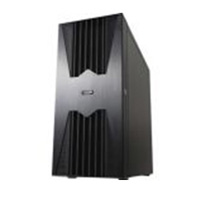 Dual Core Pentium
2 GIG Memory
1,000 GIG disk Drive
32 Channels for up-to 32 cameras
MPG4 hardware compression with 4 processors
10/100/1000 Ethernet, High-Resolution video card, Rugged Case with Lock.